Durasteel is a composite panel of fibre reinforced cement mechanically bonded to punched steel sheets on both surfaces It is classified as non-combustible in accordance with many national and international standards and is highly resistant to moisture even when saturated. It will not absorb combustible fluids and its tire resistant qualities are exceptional
Durasteel is highly impact and blast resistant, which enables it to withstand prolonged exposure to fire of the cellulosic,hydrocarbon or jet fire types. It can also withstand hose-stream actions and,because of its very low moisture absorption,it can be used externally and is not susceptible to the damage often caused by moisture during the early
stages of delivery and installation of the system, or by sprinkler actuator.
Durasteel is a fit and forget system,which requires virtually no maintenance.
Features/Advantages of Durasteel®
Strong
Impact resistant
Moisture resistant
Maintenance free
Requires no foundations
Space saving
Engineered for fast track construction
Flexible installation
Offers up to G hours fire protection
Lightweight
Employs only dry trade installation methods
Relocatable and suitable for retro-installation
Proven 40-year design life
Tested to Hose Stream ASTM E119 to 5-bar pressure
Tested to DIN 4102 to 4000J hard body impact after fire test
Ducting available in 1, 2, 3, or 4-sided configurations with internal or external flanges, with up to 4 hours fire resistance
Non-combustibility with zero spread of flame
Nui-luxic
Man-made mineral fibre-free
Modular or kit form construction
Loadbearing and non-loadbearing constructions
Resistant to the most onerous fire curves, e.g., Hydrocarbon, Jet fire, etc.
Typical Applications
Ventilation ducts:
Smoke extract ducts
Kitchen extract ducts
Cable protection ducts
Service ducts
Ceilings:
Plenum chambers
Loadbearing ceiling
Membrane ceilings
Suspended ceilings
Lift or service shaft cappings
Walls:
Partitions
Service shaft
Lift enclosures
Cavity barriers
Industrials:
Valve box enclosures
Switchgear enclosures
Ducts
Escape tunnels
Storage systems
Hatch covers
Fuel pipe protection
Introducing Durasteel
Features
Up to 6-hour fire resistance
Impact resistant
Unaffected by water
Non-combustible
No smoke or toxic gas in a fire
Slim, space-saving profile
Lightweight, no foundations
Easily relocatable
Hose-stream resistant
Mechanical or seismic vibration resistant
Suitable for retro-installation
Low sound transmission
Fast track buildability
Ceilings & Plenums
General
Intumex Durasteel walls and partitions can be designed and installed in various layout and framing options to meet a multitude of needs.In today's construction markets the need for systems which can perform multifunction roles, whilst capable of allowing for fast track and cost effective installation are of prime importance.
The Intumex Durasteer partition and wall system can easily fulfil all of these roles. Durasteel walls have resistance to extreme impact,both before,during and after exposure to fire. This ensures that under use,they suffer no damage from the ravages of every day exposure within warehouse situations for instance, under fire conditions they protect and maintain compartmentation, after a fire they ensure a building remains secure until remedial work can be undertaken.
As a real example of the effectiveness of the Durasteel walls,see the above photographs, one the right, before the fire, on the left,after the fire. The Durasteel wall separating the two sections of this factory performed exactly as designed, the morning following this fire, the bottling plant on the unexposed face of the wall was operating as usual, thus minimising the effects of the fire as much as possible.
Intumex Durasteel walls are swiftly installed; on most occasions they have no requirement for foundations or other special construction works.Installation is a dry trade thus there Is no dislocation or other trades working in the same areas, therefore allowing faster project completion.
Durasteel walls can offer both integrity only or integrity and insulation. Walls can be designed for supreme blast resistance and to meet most of the generally recognised fire curves, Cellulosic, Hydrocarbon, Jet Fire etc.
Intumex Durasteel walls combine extremely high levels of fire resistance with impact and water resistance to similar high performance levels. They are proven to withstand the most demanding environments, temperature extremes and hostile elements, they resist high thermal shock, such as high pressure firemen's hoses.
Durasteel walls and partitions can be used in applications such as separation of hazardous areas,shielding for valve actuators, protection of escape routes and tunnels, construction of refuge areas, compartmentation within buildings and storage areas for hazardous goods or protection of equipment.
Introducing Durasteel Partitions & Walls
The general arrangement of the proposed partition system constructed from Durasteer is shown on the following pages.
When considering the design of walls,it is essential to consider the section size of the steel framing in conjunction with the wind loading factors, expansion allowance, together with the height and span of the wall, to ensure that under both fire and ambient conditions, the wall will provide the necessary design performance.
The basic training system comprises of lightweight steel sections, with a nominal 3mm thickness, dependant on the other design factors etc. All framing is either bolted, screwed or welded into position, again this would be dependant on location, performance parameters and design requirements.
Where a cold smoke seal is required, the boards must be bedded on Intumex fire rated silicone or Intumex Acrylic Intumescent mastic.For demountable wall systems, to ensure sealants do not act as adhesives, a cold smoke seal composed of a 2mm thick strip of Intumex PL Intumescent strip can be applied. For the integrity only systems, the Durasteel walls have been tested with the framework on both the exposed and unexposed faces, to fire,in order to show that the frame can be exposed without detriment to the fire performance of the system.
The framing for the Durasteel wall systems must be securely fixed back to a substrate that has an equal or better fire performance than the designed wall. All fixings must be non- combustible, and must be those listed in the approval documents e.g. the correct type and grade of Teks screws must be used, not cheaper equivalents. The expansion bolts fixing the framing to substrates should be of all steel fabrication and not of aluminium or plastic.
Durasteel Partitions & Wall Types of Application
Low Radiational Fire Wall
Low radiation fire wall for construction where at high degree of stability and integrity are required, where insulation as measured upon the unexposed surface of the wall is not critical, but where heat radiation from exposed to unexposed face could be of importance. Intumex Durasteel low heat radiation walls offer a reasonably lightweight construction, which is very narrow across its thickness.
Used in conjunction with the Intumex Durasteel pallet racking fire barrier system, This wall offers increased warehousing space and allows for racking to be placed practically against the Durasteel wall itself.
RADIATION CHARACTERISTICS


Single layer Durasteel° fire walls can be constructed using framing of either steel channels,Tee sections or back to back angle sections as shown in the two details here.
The type of framing system and the dimensions of the steel sections will depend on the performance requirements of the wall in terms of wind load,fire performance,impact resistance etc. In most instances, Durasteel walls are of a bespoke design. Please consult Intumex Asia Pacific for specific design details to suit your project.
Durasteel Partitions & Wall Types of Application
Insulated Fire Wall
Insulated fire wall for construction where a high degree of stability, integrity and insulation are required during a fire. Durasteel insulated fire walls are designed to prevent the passage of heat from a fully developed fire on the exposed face. The maximum permitted temperature allowable on the surface of the unexposed face is 140℃ as a mean temperature overall the surface, or a maximum temperature of 180°℃ at any one point overall the surface.
Please note this is different to the above low radiation walls where the temperature is measured 100mm away from the face as detailed on opposite page. Insulated wall constructions should be used in areas where the following may occur:
Escaping personnel or firefighters may have bodily contact with the wall surface.
If used as a wall lining to any escape route, for instance as an access tunnel within a factory.
If there are any volatile chemicals or materials stored within the vicinity of the fire wall and which may ignite at low temperatures.
There is a need to improve compartmentation beyond simple integrity.
There are a number of methods of constructing insulated wall systems, three of which are depicted here. The first system consists simply of a steel frame, Durasteel boards either side and a mineral wool infill.The second is similar but includes the addition of a Durasteel cover fillet over the steel framing which improves the insulation by reducing heat conduction across the frame. The third on the right using multiple layers of Durasteel.
Each option has its own benefits. The type of system,thickness of Durasteel, type, thickness and density of the mineral wool, cover strips or not are all dependent on the fire and physical performance required from the system.Please consult Intumex Asia Pacific for specific details to match your project requirements.
COMPONENTS
Steel head and track framing.
Mineral wool, thickness, density, and layers dependent on fire performance requirements.
Vertical steel framing positioned at nominal 1200mm centres. Note that centres and dimensions of framing can alter depending on physical performance requirements.
Intumex Durasteel® boards, 6mm or 9.5mm depending on performance requirements.
Steel angles joining vertical to horizontal framing members. Joints can often be welded, depending on performance requirements and dimensions of the structure.
Fireblast Wall
Designed specifically to protect personnel and equipment from the effects of explosion, fire, impact, and the effects of smoke and fumes in hazardous environments, such as offshore platforms, petrochemical installations, chemical plants, military establishments, civil defence works and hazardous process plants.
Additional features of FireblastIM fire and blast resistant walls:
Blast resistant, tested from 0.3 to 2 bar pressure.
Resistant to hydrocarbon fires, tested to H120.
Impact resistant to 4000J after 180-minute fire test.
Jet fire resistant (J60).
High energy absorption.
Purpose-developed software produces individual designs in minutes.
Hose stream resistant to a 5 Bar high-pressure hose. In accordance with DIN 4102 Parts 2 and 3 requirements.
Fireblast is a structure made of rigid steel sub frame with Durasteele fixed to both sides. One of this systems major advantages is its eminent suitability for retro-installation, especially in confined spaces, making Fireblast ideally placed for the improvement of safety on existing structures, as well as on new installations. This Durasteel system combines light weight with exceptional strength, energy absorption and durability.
Unlike many fire and blast resistant materials, Durasteel is non combustible and will withstand an explosion followed by a prolonged fire and still be unaffected by hose stream fire fighting. Its integrity remains unimpaired,ensuring continued protection against fire, impact and moisture as well as preventing the escape of smoke and toxic gases.
Durasteel systems are tested up to H120 fire rating,and the systems can be designed to suit specific project performance requirements.
All Fire blast walls are individually tailored to suit specific project performance requirements, please consult Intumex Asia Pacific for specification and construction details.
FIRE RATING PERFORMANCE

CONSTRUCTION DETAILS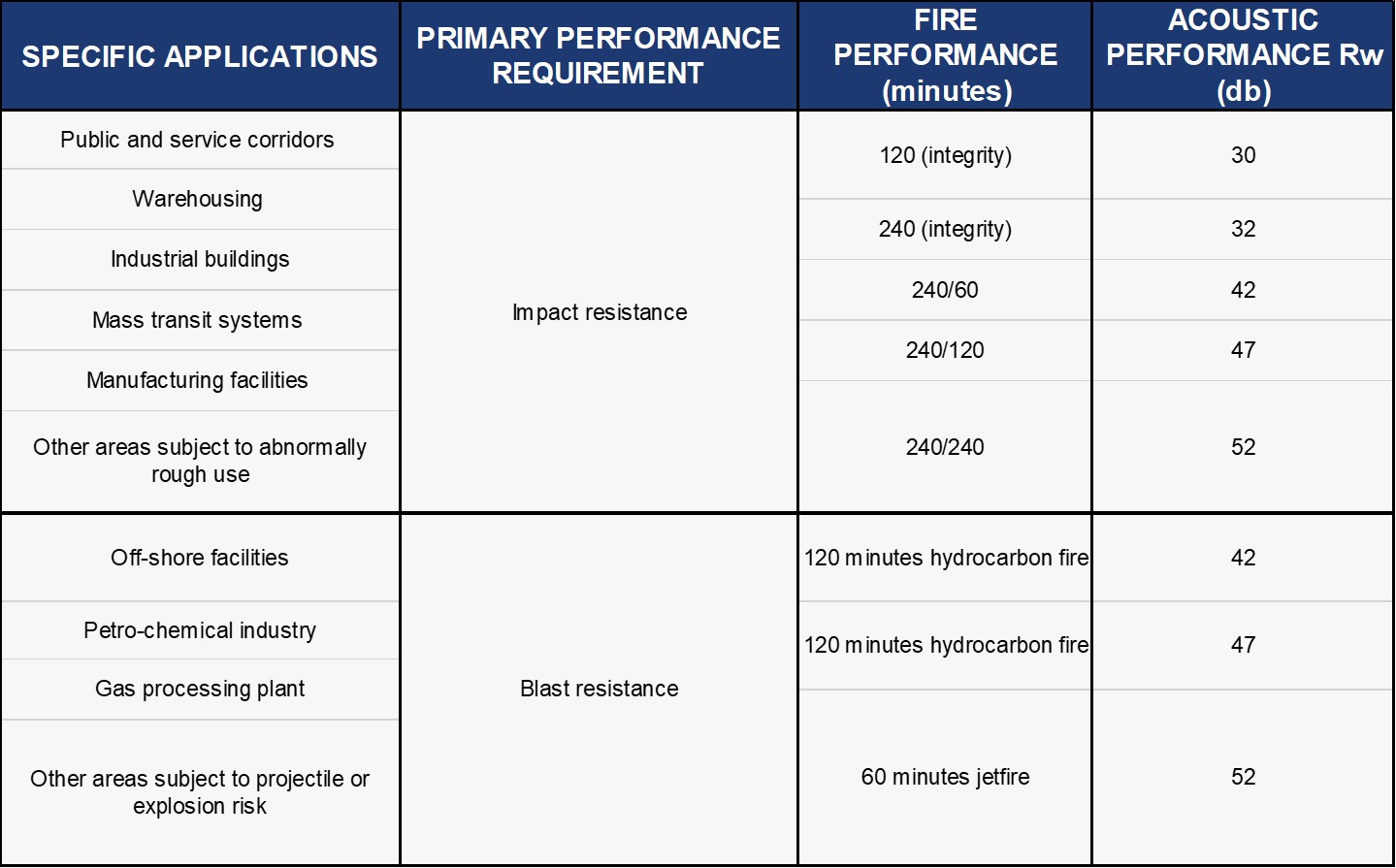 NOTE: Fire performance figures denote integrity and insulation performance respectively. Acoustic performance figures established by direct testing or by assessment.
For details of specifications and installation details,please consult your local Durasteel distributor or your local Intumex Asia Pacific office.