Model ACD series Ceiling diffusers are constructed from highly corrosion resistant extruded aluminium. Designed with welded butt joints and corner inserts, it will be able to withstand rough handling during installation. The diffuser is enamel coated and oven-baked for scratch resistant.
ACD diffuser Is a very popular choice for many cooling, heating and ventilating application, and it is designed to handle large volumes of air with good throw patterns, lower pressure drops and sound levels. The excellent performance is complimented by a pleasing appearance that harmonizes with various architectural details.
AIR GRILLES ceiling diffusers are suitable for mounting on virtually all types of ceilings.
Available in various sizes and core patterns to suit every architectural requirement.
Centre core easily removable from diffuser face for maintenance.
Corners of frame are reinforced with corner inserts and argon welded to maintain hairline mitre-joints and ensure rigid handling.
Available in one, two, three or four way throw.
Opposed blade volume control damper can be adjusted from face of diffuser with a screw driver.
Diffusers can be supplied in square or rectangular profiles (refer to Core Styles in page 5).
Square to round adaptor can be supplied to permit attachment of round duel to a square neck diffuser.
All Diffusers are enamel coated and oven baked for scratch resistant.
Units of grilles have been tested at an independent N.A.T.A. accredited test laboratory in Australia.
SELECTION OF DIFFUSERS
AIR QUANTITY AND NOISE REQUIREMENTS
The total volume of air (ℓ/s) transmitted into a given area to be conditioned is a function of the overall system design (i.e. Total ℓ/s = Number of outlets x ℓ/s per outlet.
The permissible Noise Level of the conditioned area is directly related to the intended use of conditioned area (Please refer to the table on Recommended Sound Levels in page 6).
AIR DISTRIBUTION PATTERN
Given the shape or the space to be conditioned, the pattern requirement is determined by the number or outlets in it and the incidence or any exposed beams or light fittings below the ceiling line that may affect the dispersement of air. For example, for a two-way corner blow pattern. Models ACD-26, ACD-2C or ACD-2D may be ideally situated in the corner of a room whilst in corridors. a two way opposite blow pattern, Models ACD-2, ACD-2A or ACD-2E may be use. For larger areas, the division of the total area being conditioned into a series of overlapping space modules, usually square or rectangular, into which Model ACD-4 or ACD-4A diffusers are installed is most common.
THROW REQUIREMENT
The required throw is usually the distance from the nearest enclosing wall or partition or to the point of intersection with the airstream of an adjacent outlet. For high ceiling areas, the throw requirement may be specified as the horizontal distance described above plus the vertical distance from the outlet to the occupied zone. This vertical distance Is commonly measured to extend to the 1500mm level in the room. Generally, the specified throw should not exceed 1.5 times the diffuser mounting height.
VAV APPLICATION
Model ACD diffuser is ideally suited for Variable Air Volume (VAV) applications. The 360° radial horizontal air flow pattern promotes rapid mixing, temperature equalization and velocity reduction. The diffuser provides a consistent and stable air pattern as the air volume is reduced.
For ceiling applications, neck velocities as low as 75FPM on reduced air volume results in stable, horizontal air distribution without dumping. On exposed duct VAV applications, stable horizontal air distribution is maintained without dumping down to 20% of the maximum air volume.
DAMPER BALANCING NOISE
For convenience, an opposed blade damper can be fitted In the square to round adaptor to allow balancing through the face of the diffuser. 6ut this is only recommended when minor adjustments are necessary. Extensive throttling should always be caJTied out in the distribution ductwork.
MODEL ACD – 4 DIMENSIONS
Without volume control damper
Complete with volume control damper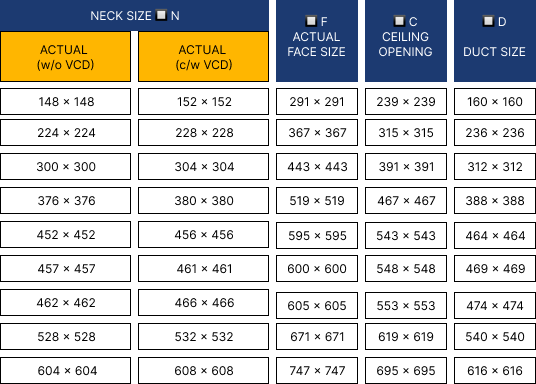 All dimensions in millimetres (mm)
PATTERN ADJUSTMENT
Contoured vanes permit full 180 degrees adjustable air pattern, complete flow rate control, including blank-off.

ACCOUSTIC AND AIRFLOW PERFORMANCE DATA for 600 x 600 Face size CEILING DIFFUSERS
Model ACD-4


SP – Static Pressure (Pa)
NR – Noise rating number based upon room absorption or 10dB
T – Throw In meters to a Terminal Velocity of 0.25 m/sec (as per ADC 1062 – R3)
Qs – Primary Air Flow Rate (ℓ/s)
RESULT OF PERFORMANCE IS TESTED UNDER NATA (AUSTRALIA)


MOUNTING DETAILS
Lay-in frame for exposed T-bar Ceilings
Flush frame
RECOMMENDED SOUND LEVELS

WARRANTY
AIR GRILLES MANUFACTURING PTE LTD (the "company") warrants that all goods in this catalogue that have been manufactured by the company will be defects free in quality or material under normal use and service for a period of one year after goods are sold. The company have the right to make improved changes to the products at any time. The company is obligated under this warranty, only to replace any product which is defective in quality or material under normal use and service within such period. Component parts or accessories which are covered by the warranty of the manufacturer will not be covered under this warranty. Any improper use of the product, after defective or worn parts have been discovered, or any modification or repair by others which the company claims that it will materially and adversely affects the products, neglect, substitution of parts not approved by the company will void this warranty.
No person is authorised to assume any liability with respect to any goods sold, for the company. No representatives or employee is authorised to change this warranty or give any other warranty unless it is authorised by an officer of the company at its home office in writing. In any event of payment of incidental or consequential damages, including without limitation, delay cost or damages for property or injury to persons, the company shall have no liabilities whatsoever.
Claims under this warranty, if not submitted, in writing and received by the company within thirty (30) days of the dated to which each claim relates, is discovered or should have discovered, will be deemed waived.