EXTRUDED ALUMINIUM BAR LINEAR GRILLES
Model ABL bar linear grilles are constructed from highly corrosion resistant extruded aluminium. The Bar Linear Grille is designed to withstand rough handling without distortion. It is enamel coated and oven-baked for scratch resistant.
ABL Bar Linear Grille is a very popular choice for many cooling, heating and ventilating application, and it is designed to handle large volumes of air with good throw patterns, acceptable pressure drops and sound levels. It is specially designed for architectures, designers and air conditioning engineers with skill and knowledge in the art of Air Distribution.
AIR GRILLES bar linears provides a crisp clean line appearance.
Perfect for use as a continuous line (Alignment strips will be provided to maintain alignment).
Designed ideally for sill and most effectively for high side wall supply and return air.
Available in 0 degrees and 15 degrees deflection Bars
Specially designed to suit modern architectural and interior decoration requirements
Free Area is approximate 65%.
Constructed with a standard spacing of 12mm from bar centre to centre.
Optional opposed blade volume control damper can be easily adjusted from face of grille by a screwdriver.
Corners of frame are reinforced with corner inserts and argon welded to maintain hairline mitre-joints and ensure rigid handling.
All grilles are enamel coated and oven- baked for scratch resistant.
Units of grilles have been tested at an independent N.A.T.A. accredited test laboratory in Australia.
SELECTION OF BAR GRILLES
AIR GRILLES offer a complete selection of extruded aluminium Linear Bar Grilles. They are designed for installation in sidewall or sill and can be used for supply or return air in heating, cooling or ventilating applications. AIR GRILLES have combined architectural beauty with performance and versatility. With fixed bars parallel to the long dimension. Linear Bar Grilles are a popular choice for continuous line use on a variety of applications.
Linear Bar Grilles installed in the sidewall near the ceiling can provide a horizontal air pattern above the occupied zone. Core deflections or 0° or 15° allow the air pattern to be directed up and across the ceiling. The air distribution then benefits from the ceiling coanda effect. For horizontal air patterns of cooling air in free space, 0° or 15° core derlections can direct the air path upward to compensate for the drop resulting from lhc cooling differential of the supply air. The core defection also reduces the open appearance of the grille face.
Linear Bar Grilles installed in the top of a sill or an enclosure provide a vertical air pattern. This is effective on counteracting cold down drafts and in offsetting the radiant effect of glass surfaces. A 15° core deflection, directed toward the glass, will increase the air pattern spread on the glass. The air flow will be directed up the glass and across the ceiling toward the interior.
It is recommended that selections of ceiling mounted Linear Bar Grilles be confined to return or exhaust air application. When ceiling mounted for supply air, they will provide a vertical projection air pattern. Generally, vertical projection is required only for spot healing or spot cooling applications such as entrance vestibules.
Mitred Corners are a standard feature with AIR GRILLES Linear Bar Grilles. When assembled and finished, the accurate mitred joints of the end cap blend perfectly into the total assembly.
If you have a special requirement, please contact your AIR GRILLES representative. We invite your inquiries at AIR GRILLES MANUFACTURING PTE LTD.
MODEL ABL DIMENSIONS
Expansion and Contraction of Aluminium
The expansion and contraction of our Extruded aluminium Bar Linears due to the difference in temperatures are shown in the graph.
For all applications, the hairline joint which occurs when Bar Linears are butted together is
sufficient to take care of the expansion and contraction of the aluminium.
The alignment strips furnished with the grille makes it easy to allow this slight clearance during installation and still maintain alignment.
MOUNTING DETAILS
Countersunk screw fastening
Spring attachment fastening
Concealed bracket fastening
Concealed fastening Spring Clip
ACCESSORIES
ALIGNMENT STRIPS
It is provided when Bar Linear Grilles are supplied with open ends for continuous installation.
ACCOUSTIC AND AIRFLOW PERFORMANCE DATA of BAR LINEAR GRILLE
ModelABL


SP – Static Pressure (Pa)
NR – Noise rating number based upon room absorption or 10dB
T – Throw in meters to a Terminal Velocity of 0.25 m/sec (as per ADC 1062 – R3)
Qs – Primary Air Flow Rate (ℓ/s)
RESULT OF PERFORMANCE IS TESTED UNDER NATA (AUSTRALIA)
MITRED CORNER SECTIONS
Mitred corner sections for Model ABL series Bar Linear Grilles are available in both simple or compound angles if required.They are factory assembled featuring precision mitres plus welded construction at the joints to maintain hairline precision mitre.
Mitred corner sections are finished to match the associated straight sections of grille.
Shown below are three mitred corner sections for Bar LinearGrilles with simple 90 degrees angle joints.
For ceiling, floor or sill
For sidewall inside mitred corner
For sidewall outside mitred corner
RECOMMENDED SOUND LEVELS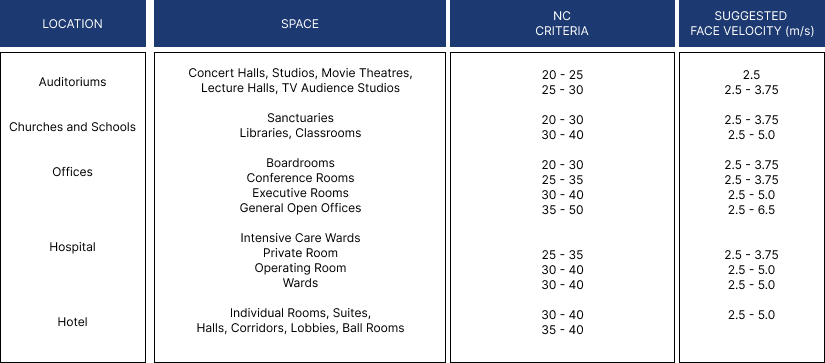 WARRANTY
AIR GRILLES MANUFACTURING PTE LTD (the "company") warrants that all goods in this catalogue that have been manufactured by the company will be defects free in quality or material under normal use and service for a period of one year after goods are sold. The company have the right to make improved changes to the products at any time. The company is obligated under this warranty, only to replace any product which is defective in quality or material under normal use and service within such period. Component parts or accessories which are covered by the warranty of the manufacturer will not be covered under this warranty. Any improper use of the product, after defective or worn parts have been discovered, or any modification or repair by others which the company claims that it will materially and adversely affects the products, neglect, substitution of parts not approved by the company will void this warranty.
No person is authorised to assume any liability with respect to any goods sold, for the company. No representatives or employee is authorised to change this warranty or give any other warranty unless it is authorised by an officer of the company at its home office in writing. In any event of payment of incidental or consequential damages, including without limitation, delay cost or damages for property or injury to persons, the company shall have no liabilities whatsoever.
Claims under this warranty, if not submitted, in writing and received by the company within thirty (30) days of the dated to which each claim relates, is discovered or should have discovered, will be deemed waived.